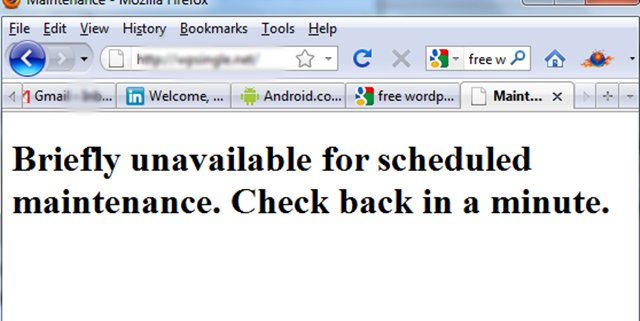 WordPress Maintenance Mode Error
Why Does The WordPress Maintenance Error Happen?
The Maintenance mode page is actually not an error. It is a process that normally happens when you are updating plugins, themes, etc. Normally if everything has worked out, then this notice will probably be displayed for only a few moments. However, sometimes due to a web server's slow response or low memory issue the the WordPress maintenance page may timeout or be interrupted. When this happens, you website may be stuck in the WordPress maintenance mode.
How to Fix The Maintenance Error?
The First step is making your site is properly updated to the latest WordPress. An unfinished or interrupted update may cause issues when your website comes out of maintenance mode. Once you have updated, all you have to do is delete .maintenance file from your site's root folder using FTP. If you can not see .maintenance file in your site's root directory, then make sure you checked your FTP client to show hidden files. WordPress creates a .maintenance file during the update process which indicates that your site is in the maintenance mode. Unless this file is removed your site will remain in the maintenance mode and your users will continue to see the notification. Another easy and safe alternative would be to create another page to redirect visitors to whenever your website is down or you are making updates. This ensures your visitors wont see any issues or problems when trying to navigate your website.