3 Created, Inc.
"Efficient Digital Marketing Solutions For Your Brand"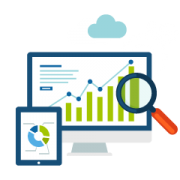 "Getting It Right The First Time"
Choosing a website design or digital marketing company who can help you secure your brand online and adequately advertise your website, can take hours, days, or even weeks of looking into different digital marketing companies. For example, website creators, designers, custom site marketing, web promoting, search engine specialists, logo architects, developers, article content creators, etc. We offer all these website marketing benefits and then some, there is no compelling reason to utilize more than one company for your custom digital marketing needs. Our website marketing services range from custom website design, PC optimization, custom application optimization plus development, web hosting, and website maintenance. If you need general help or just need guidance we can also offer a free Internet marketing consultation whether you are a national business or are here locally in Buffalo, NY.
Custom Website Design
Our center business is creating a completely custom and intelligently proficient website design. We can help create your organization's or company brand, on the off chance that it as of now doesn't have one, and execute a marketing strategy around it. Whether you require a Content Management System (CMS), Forum, Blog WordPress/Joomla, or Ecommerce shopping website, we can assemble it for you. Our website design services not only are to help you please aesthetically but we also provide the best overall marketability for scaling conversion and leads. As a website design company in Buffalo, NY we have been able to build websites for companies large and small, and by paying attention to detail and listening to what the client wants. We are able to leverage our marketing expertise to build a website that not only looks amazing but converts.
Reputation Management
Have you ever performed an online search of your company or business and discovered certain articles or reviews that have affected your bottom-line? A lasting online record of your company is effortlessly exploitable by your competition who can use this as leverage, and your customers who use it before making the decision to do business with your company. Additionally with many potential customers investigating, and doing research on whether your company is reliable or not. Your reputation needs to be managed so you can provide excellent customer service to already happy customers while providing a better experience for the ones not satisfied. 3 Created can help via finding negative and positive reviews and build an appropriate strategy on how to address them. While monitoring your reputation on a monthly basis manually can be cumbersome we have software that can help make the job easier and more affordable than ever.
Custom Website Optimization
Search Engine Optimization also known as website optimization is very fundamental and needed for any website marketing plan right after the website design or before its completed. As a website optimization company 3 Created's custom website SEO strategies will get you to the top of the search engines through high-ranking placement within the search results. We will provide a full SEO keyword/key-phrase rankings report, as well as a back-link report and results of how your site appears in the search engines results pages. Our focused team of assertive individuals will improve your websites targeted traffic and increase conversion of your company's internet sales through website optimization.
SEO is not a simple add-on to search engine marketing – it is a form of online marketing and advertising in it itself. We have acknowledged the importance of website optimization for businesses so we offer to our clients the most attention to detail and the highest of quality work at an affordable cost. We stay up to date with all search engine algorithm changes i.e. (Panda, Penguin, Hummingbird) and we also you keep up-to-date with the very latest from all major search engines such as Google, Bing, Yahoo and the various smaller search engines.